A stereo 80W high-output system provides high-quality sounds
Rhythm machine function with excellent presence
Simple-to-use recording and playback functions
Mixer function that meets a variety of needs
Acoustage function for added spaciousness
Convenient tuner and metronome functions
Foot switch input for greater control during live performance
Flexibility for any performance location
A Stereo 80W high-output system provides high-quality sound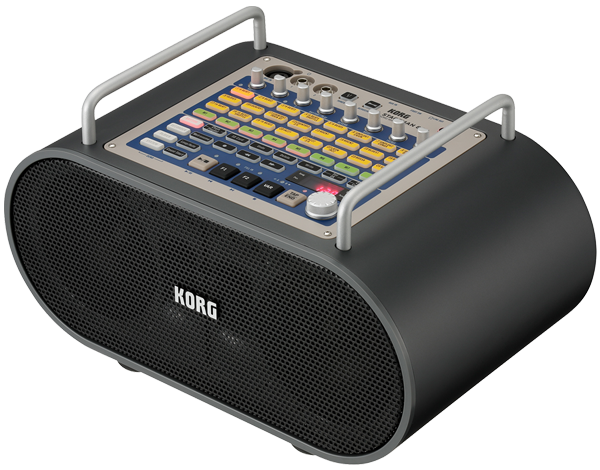 The STAGEMAN 80 is a powerful sound system equipped with two 40W high-output amps and two 4-inch stereo speakers. It delivers impressive volume levels that can cover a small or mid-sized performance venue, a listening room, or even a live street performance.
The generous sound takes advantage of the high output, extending from a tight low-frequency range to an extended high-frequency range, and is tuned to give you an extremely well-balanced and natural tone. The sound quality is reminiscent of high-end audio equipment, and will allow every note of your vocals or guitar to shine beautifully.
The amp section uses class-D amps for their good power efficiency. You'll always be able to enjoy clear sound where long battery life is important.
Rhythm machine function with excellent presence
The STAGEMAN 80 is equipped with a large number of high-quality rhythm patterns that take advantage of KORG's advanced sound-generating technology. Based on performances by top-ranking pro drummers and percussionists, these rhythm patterns have a great-feeling groove, and utilize KORG's new "Real Groove Technology" that allows natural and musical-sounding phrases to be generated at any tempo. A total of approximately 3GB of rhythm loops are included, covering a range of 24 genres such as 8-beat, 16-beat, unplugged beats such as Cajon, rock, jazz, and boss nova, with two variations for each genre. Just press a single button to flexibly play back the rhythm you want. The high-quality speakers will produce a realistic and live-sounding rhythm session as though a real drum performance is being staged in front of the listener.
There's a memory function that lets you register your favorite rhythms and playback tempo, as well as a chain function that lets you freely connect individual measures of rhythm styles. You can create original drum tracks to suit the songs that you're performing.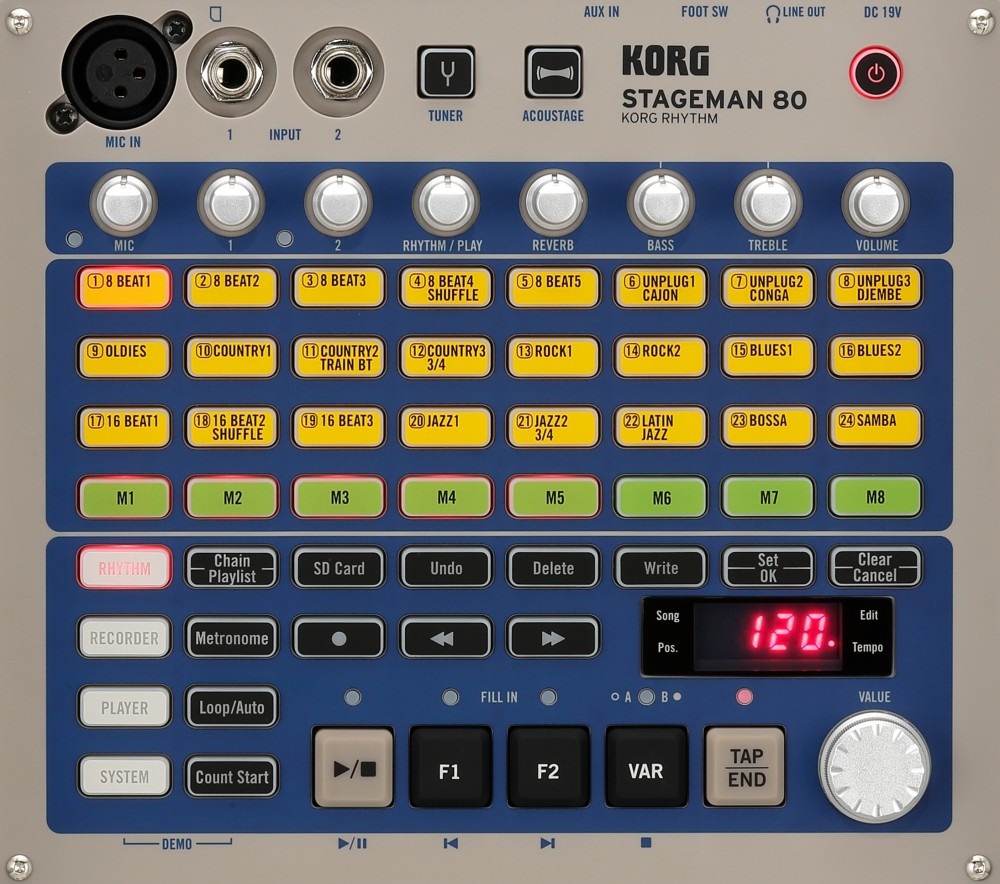 Simple-to-use recording and playback functions
You can record your own performance along with the internal rhythm patterns or along with a song you've added to the SD card. You can record with undo/redo, and even register marks at desired locations in the recorded data and play back a region as a loop while you overdub. You can use this capability to create sketches for song ideas, to capture material for later work in your DAW, or create a full recording.
The STAGEMAN 80 is also equipped with an audio player function that can play back audio files (wav) from an SD card. Acoustage and the high-quality speakers mean that you can use this as a great-sounding listening system. You can also prepare backing tracks beforehand and perform along with them, using the STAGEMAN 80 as a PA amp. There's a playlist function (10 banks) that let you manage the file playback order of up to 24 songs, so you can play them back in the desired order during your live performances.
Additionally, the playback speed can be adjusted in a range of -25% to +25%, and you can specify that files play back repeatedly or in automatic succession. The STAGEMAN 80 gives you solid support with a wide range of functions that you'll actually use in your performances.
Mixer function that meets a variety of needs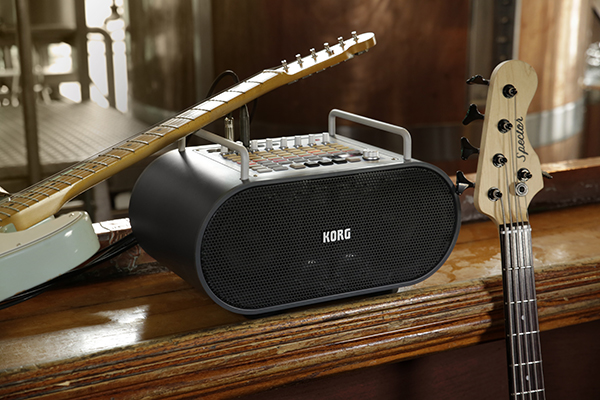 The STAGEMAN 80 lets you mix a variety of input sources simultaneously, including a mic input, two inputs to connect a guitar or bass, and an AUX input that supports line-level stereo output from devices such as an iPod or keyboard. Two-band EQ is provided, and you can apply reverb to your vocal (mic input) or acoustic guitar and so on (inputs 1/2) to enhance your presence.
Acoustage function for added spaciousness
KORG's proprietarily developed virtual surround technology "Acoustage" is also featured in the STAGEMAN 80. It produces a wide stereo effect, giving the impression that the sound is being heard from positions that are widely spaced to the left and right. As good-quality stereo audio speakers, or as a PA system that can transform your personal practice studio into a spacious stage, "Acoustage" gives you an unbeatable sound field.
* What is Acoustage (Virtual Surround Technology)?
This is KORG's original and revolutionary virtual surround technology that can generate a unique personal acoustic space. With only front stereo speakers, it can create an unprecedented three-dimensional acoustical experience. It analyzes the actual sounds of the playback system and applies optimizations to each aspect of it in order to obtain the maximum effect.
Convenient tuner and metronome functions
The STAGEMAN 80 is equipped with a tuner that has the high precision you expect from KORG. When you turn this function on, the rhythm style buttons become a tuning meter, letting you tune while watching a highly visible meter indication. You can also tune while hearing a guitar, bass, or piano guide tone, or listen to a metronome that's convenient for practicing.
Foot switch control function that's optimized for performance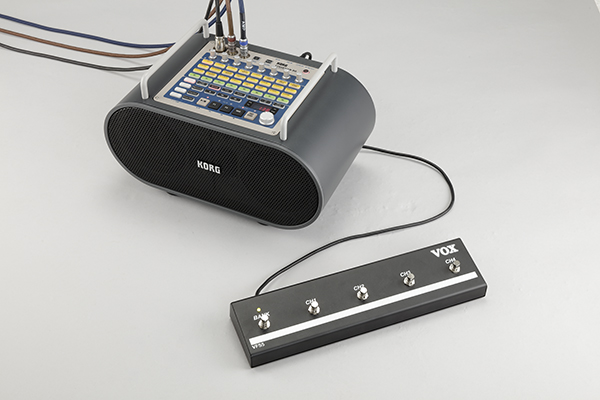 By using a separately sold foot switch (VOX VFS5) accessory, you can easily control the STAGEMAN 80. You can use this to insert a fill-in to the rhythm patterns while you perform, switch rhythm variations, or start/stop the recorder or audio player. This enables real time and effective performances in situations such as when a singer-instrumentalist is playing live.

In addition, you can download the overlay data of VFS5 for intuitively controlling the STAGEMAN 80. Please print and use it.
Flexibility for any performance location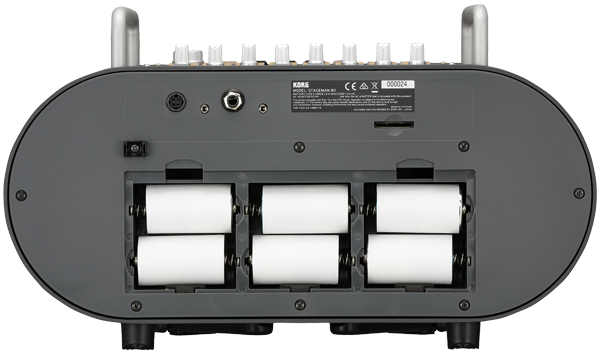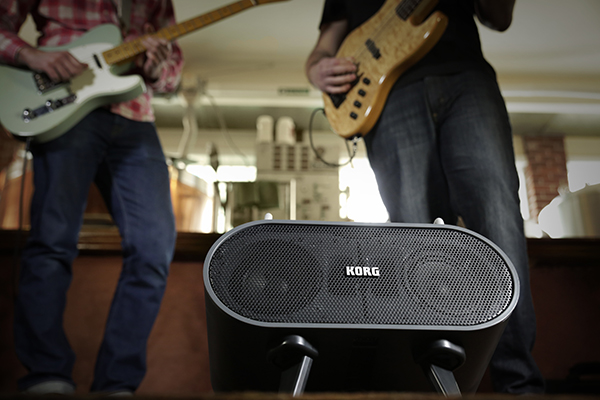 The power can be supplied from the included adapter or from six D batteries. Since this allows up to 20 hours of continuous operation, you can use the unit with confidence even in locations where electrical power is unavailable.
You can also extend the stand that's on the lower part of the body, allowing you to tilt the speaker to an upward angle. For example if you're playing live in a cafe, this positioning allows a fuller sound to reach your audience. You can also use a general speaker stand or a separately sold compact speaker stand (ST-S80) to position the STAGEMAN 80 at a higher level.